Pak Cik Hijau dan Kuning
| | |
| --- | --- |
| Nama | Pak Cik Hijau (kanan), Pak Cik Kuning (kiri) |
| Jantina | Lelaki |
| Pekerjaan | Pesara |
| Saudara-mara | Tidak diketahui |
| Kawan | Orang Tua yang lain |
| Musuh | |
| Penampilan Pertama | Lawak Kampus#6/Team Work |
Pak Cik Hijau dan Kuning adalah dua orang pak cik yang berfikiran kuno.
Perwatakan
Edit
Pak Cik Hijau dan Kuning merupakan salah satu golongan yang masih berfikiran kuno. Kerana fikiran mereka yang tua, mereka kadang-kadang boleh tersalah faham dengan perangai generasi muda sekarang.
Penampilan
Edit
Pak Cik Hijau pakai baju hijau, botak dan cuma ada dua gigi. Manakala Pak Cik Kuning pulak pakai baju kuning dan ada rambut.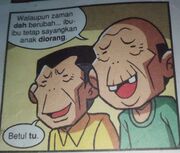 Ad blocker interference detected!
Wikia is a free-to-use site that makes money from advertising. We have a modified experience for viewers using ad blockers

Wikia is not accessible if you've made further modifications. Remove the custom ad blocker rule(s) and the page will load as expected.