Jim
[[File:|thumb|center]]
| | |
| --- | --- |
| Nama | Jimmy (Jim) |
| Jantina | Lelaki |
| Pekerjaan | Pelajar sekolah |
| Sekolah | Sekolah Menengah Lawak Kampus |
| Saudara-mara | Tidak diketahui |
| Kawan | |
| Musuh | |
| Penampilan Pertama | Lawak Kampus#23 |
Jim adalah seorang pelajar yang mempunyai masalah Obsessive Compulsive Disorder (OCD)
Perwatakan
Edit
Akibat mempunyai masalah OCD, Jim tidak suka apabila benda itu kotor, tidak tersusun dan tidak serentak. Dia akan membersihkan, membetulkan atau menyusun secara berulang-ulang kali sehingga dia berasa puas hati. Dia juga tidak suka orang lain untuk menolongnya (Ini boleh dibuktikan dalam jilid 26, di mana Jim tidak mahu di bantu oleh jin). Kadang-kadang, perbuatannya untuk membetulkan sesuatu dikira melampau oleh Vanness dan rakan-rakannya.
Penampilan
Edit
Jim mempunyai stail rambut yang sama seperti Agira tetapi berwarna putih. Dia selalu dilihat memakai baju seragam sekolah menengah.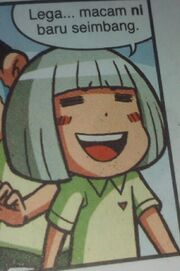 Ad blocker interference detected!
Wikia is a free-to-use site that makes money from advertising. We have a modified experience for viewers using ad blockers

Wikia is not accessible if you've made further modifications. Remove the custom ad blocker rule(s) and the page will load as expected.