Jason adalah seorang tukang kebun yang ada masalah mental dan gila.
Perwatakan
Edit
Tidak banyak tahu tahu tentang Jason sebelum dia berkerja di sekolah lawak kampus, dia cuma tahu ketawa sahaja.
Penampilan
Edit
Jason memakai topeng hoki, baju biru dan merah.
Nama Jason diambil sebab topeng yang dia pakai nampak macam Jason Voorhees watak cult dalam filem seram 'Friday the 13th'.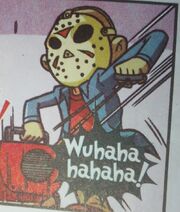 Ad blocker interference detected!
Wikia is a free-to-use site that makes money from advertising. We have a modified experience for viewers using ad blockers

Wikia is not accessible if you've made further modifications. Remove the custom ad blocker rule(s) and the page will load as expected.