Abang Aditas
| | |
| --- | --- |
| Nama | Mr.Tas/Abang Aditas |
| Jantina | Lelaki |
| Pekerjaan | Penjaga/Perlagak ngeri/Perlumba Kereta |
| Saudara-mara | Aditas (Adik), Atuk Aditas (Datuk;meninggal dunia) |
| Kawan | Aditas, Senior Posmen, Junior Posmen |
| Musuh | Tidak diketahui |
| Penampilan Pertama | Lawak Kampus #1 |
Abang Aditas adalah abang dan penjaga Aditas.
Perwatakan
Edit
Dia adalah seorang yang aktif, sama seperti adiknya, Aditas, walaupun dia sudah uzur. Dia selalu membantu adiknya dalam apa-apa masalah Aditas sedang menghadapi seperti membawa buku laithannya ke sekolah, menggantikan dia pergi ke sekolah dan menjaganya apabila dia sakit.
Penampilan
Edit
Abang Aditas mempunyai kepala yang botak dan mukanya adalah hampir serupa dengan Aditas tetapi dengan kedutan.
Dia memakai kemeja berwarna coklat muda, berseluar pendek dan salah satu tangannya selalu memegang sebatang tongkat jalan.
Beberapa orang hairan mengapa dia sangat tua sementara Aditas adalah muda. Ada kemungkinan Aditas lahir apabila abangnya adalah seorang dewasa atau melangkah ke umur tua.
Rupa abangnya semasa muda selepas dia minum sebotol ubat ajab boleh di lihat dalam jilid 24.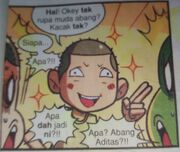 Ad blocker interference detected!
Wikia is a free-to-use site that makes money from advertising. We have a modified experience for viewers using ad blockers

Wikia is not accessible if you've made further modifications. Remove the custom ad blocker rule(s) and the page will load as expected.